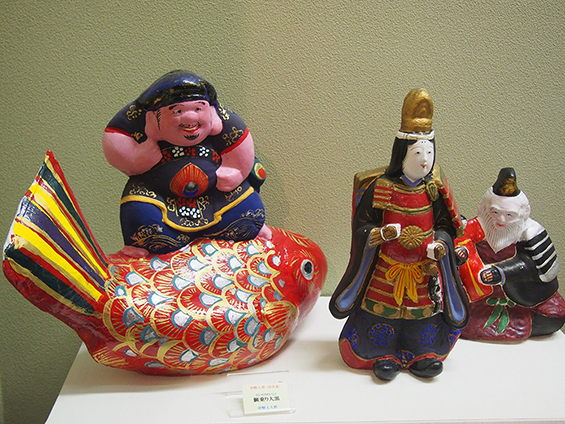 Rich world of traditional crafts in Nagano prefecture
Nagano Prefecture, located in the center of Japan, has so much to offer — ski resorts in the mountains, traditional ryokan Japanese inns, onsen hot springs, snow monkeys and many more attractions.
Japanese craftsmanship is one draw as there are many industrial arts and crafts, with long histories and skills passed down from generation to generation.
Visiting a washi, traditional handmade paper, atelier and a Buddhist alter shop provides a deeper understanding of how the climate of the area influenced the development of Nagano's arts and crafts. The Mizuhiki Museum demonstrated that traditional Japanese crafts are gaining more international attention. The amazing collection of clay dolls at the Japan Clay Doll Museum showed that dolls are closely connected to local events, and the daily lives of people all over Japan.
Uchiyama gami papermaking
Washi is made from kouzo all-natural mulberry bark fiber without mixing in wood pulp. Because the fibers of mulberry bark are longer than those of wood pulp, washi is stronger than today's common paper made from wood pulp. Additionally, people love washi for its delicate texture and smoothness.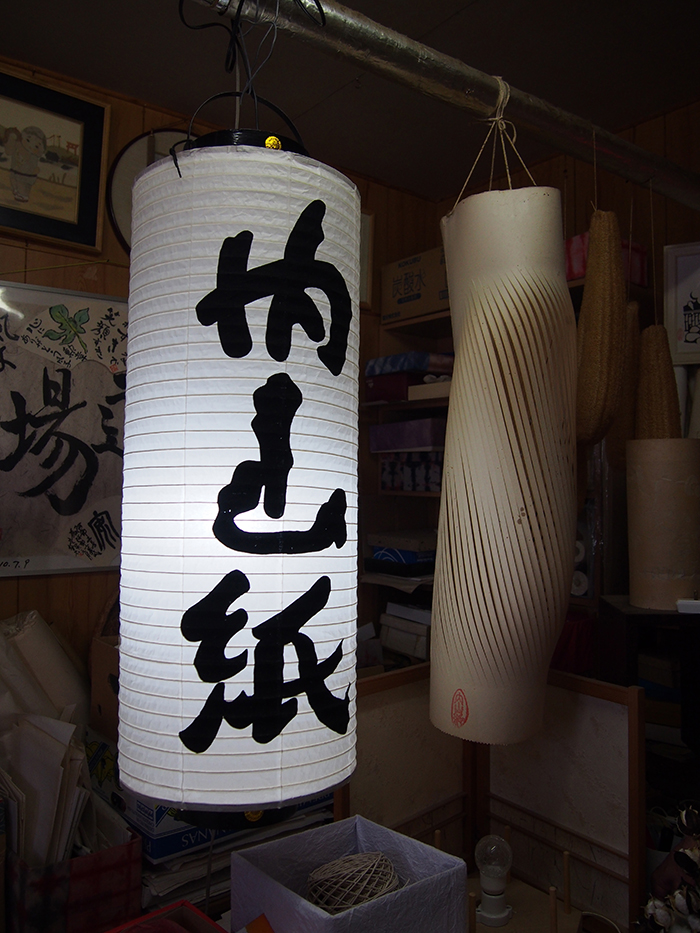 Uchiyama-gami, the washi made in the northern Nagano city of Iiyama, is particularly renowned for its durability, breathability, as well as heat retention and color fastness. One of Iiyama's traditional industrial arts and crafts, the techniques for making uchiyama-gami have been passed down for more than 400 years. A craftsman who learned the skill of papermaking in Mino, Gifu Prefecture brought papermaking to Iiyama. He took advantage of the cold winters and heavy snow in the area, creating the snow bleaching process called yuki-zarashi, which involves spreading kouzo across snow banks to dry in the sun. This process gives the paper a distinctive white color and higher durability, as well as allowing it to stay white through prolonged exposure to sunlight. The craftsmen who make uchiyama-gami also know certain tricks to create an even and smooth finish. High-quality uchiyama-gami is traditionally used for shoji, Japanese sliding doors made of paper and wood, and other paper products.
Visitors can find postcards, name cards, notebooks and lampshades made with uchiyama-gami at souvenir shops in the area. NATURA, the Kengo Kuma-designed Iiyama Cultural Center that opened in January, has a small hall that uses uchiyama-gami as wallpaper.
There are some washi makers that offer opportunities for visitors to try making uchiyama-gami of their own. The process involves scooping pulpy liquid from a trough into a flat sifter, then letting the water run out to create a thin, even layer of mulberry paper fibers. The larger the paper, the more complicated the process, but small size sheets can be made fairly easily. Approximately 10 elementary schools in Iiyama maintain a tradition of having students receive their diplomas written on uchiyama-gami they made themselves as part of school curricula.
Buddhist altars
Iiyama is also known for the skilled craftsmen who make butsudan Buddhist altars. Butsudan are commonly found in Japanese Buddhist temples and homes. A butsudan is basically a wooden cabinet with doors that contain and protect a religious icon, usually a statue or painting of Buddha or bodhisattva. Although many families do not have butsudan in their homes due to space limitations, some still have them and place ihai memorial tablets for deceased relatives, within them.
There are several reasons as to why making butsudan became popular in Iiyama, including that people in the area are relatively more devout. Additionally, zelkova and cedar trees are abundant, the clear air and humidity are suitable for lacquering and the cold winters and heavy snow encouraged indoor industries.
Butsudan made in Iiyama are known for fine carvings and many decorative metal parts that strengthen the structure, as well as enhance the beauty. All lacquered pieces are painted with more than three layers and gold lacquering with very fine powder called "Kofun Mori Makie," which helps make the lacquer it look more three-dimensional. Another characteristic of Iiyama butsudan is that they are decomposable structures.
Because the division of labor is spread among eight craftsmen, it takes about three months to make a large-sized Butsudan.
There are more than 10 Butsudan making shops on Butsudan Dori in Iiyama.
Mizuhiki
The city of Iida in the southern part of Nagano Prefecture is known as the center of mizuhiki, a strong thin twine made from washi, manufacturing in Japan. Washi is much more durable and stronger compared to common paper made from typical wood pulp because kouzo, the material used for washi has much longer fibers. Because of the very delicate nature of the motion required to make mizuhiki, 99 percent of the manufacturing process is done manually by craftsmen.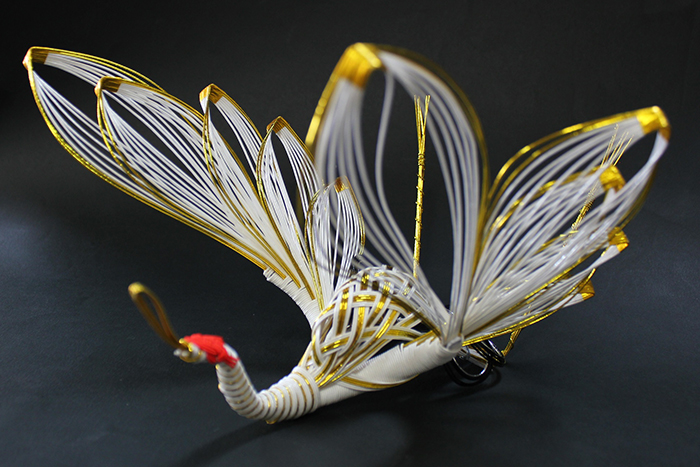 Each shape and color of mizuhiki's knots carry meaning, and it is used to decorate envelopes for gift money at weddings, funerals and other occasions. It is very important in Japanese culture and in the daily lives of Japanese people. It symbolizes warmth, affection and togetherness for both happy and sad occasions. Mizuhiki is also used for tying mage, the ginkgo-leaf-shaped topknots of sumo wrestlers.
In 607 A.D., a Japanese delegate to China brought back a gift to the Japanese emperor. The lid of the gift box had a red and white decoration made of twine that represented "a safe journey" for the delegate. This gift box with decoration is believed to be the beginning of mizuhiki in Japan. It became a custom for every gift to be offered to the Imperial court to have a red and white loose knot-like decoration, using the bonded and dried Washi, on gift boxes.
Although mizuhiki is a tradition that can be traced back to a long history, quite a few contemporary artists and designers try to use mizuhiki as a unique tool to express the spirit of omotenashi, or traditional Japanese hospitality, and their art has been garnering more attention overseas recently.
Clay Dolls
Tsuchi ningyo, or clay dolls are one of the folk toys that can be seen in many areas in Japan. The shapes of the baked white clay dolls are simple. But the intricate work of painting with vivid colors puts souls into the dolls and makes them very attractive.
The roots of tsuchi ningyo can be traced back to fushimi ningyo, the clay dolls made in the southern part of Kyoto Prefecture. They became popular souvenirs for people who visited Fushimi Inari Taisha and they spread to many areas in Japan. Tsuchi ningyo in each area in the country have close connections with local customs, folk religions and annual events. During the end of Edo Period and Meiji Era, there were about 150 areas in Japan producing tsuchi ningyo. Now, there are only 40 areas; about one-fourth of the peak. Although the number of makers is decreasing, there are still many avid fans collecting and trading tsuchi ningyo made by famous craftsman.
The city of Nakano in the northern part of Nagano Prefecture is famous as "clay doll country." There are "Nakano dolls," produced by the Nara family, and "Tategahana dolls," produced by the Nishihara family. Together, these are known as "Nakano Clay Dolls."
The tsuchi ningyo made by the two families have different styles. "Nakano dolls" can be traced back to the late Edo Period when Eikichi Nara, the first generation of the Nara family, went to Fushimi to trade, and returned with a couple of tsuchi ningyo craftsmen and molds of Fushimi ningyo 200 years ago. Many "Nakano dolls" are the figures from folklore tales and morality stories that can be described as the prototype of the Fushimi dolls. Today, they are produced by Hisao Nara and Yukio Nara; fifth and sixth generation makers. The Nishihara family, the makers of the "Tategahana dolls," traces their roots to roofing tile makers in the Meiji Era. Umesaburo Saito, who was a roofing tile craftsman from the Mikawa area taught tsuchi ningyo making to Minosaku Nishihara as a side business during winters. Tategahana dolls are usually larger with stronger colors compared to Nakano dolls, representing figures from Kabuki or famous people in history. Kumie Nishihara, a fifth generation artisan, currently makes Tategahana dolls.
The city of Nakano is home to the Japan Tsuchi Ningyo Museum, which has a collection of 2,000 clay dolls made in Nakano and other areas in Japan. On March 31 every year, an exhibition and sale of Nakano dolls and Tategahana dolls is held at the Shinshu Nakano Hina Ichi festival in Nakano. It is the only occasion time for people to purchase the latest creations from both the Nara and Nishihara families, so many tsuchi ningyo fans visit this festival, hoping to add another doll to their collections.